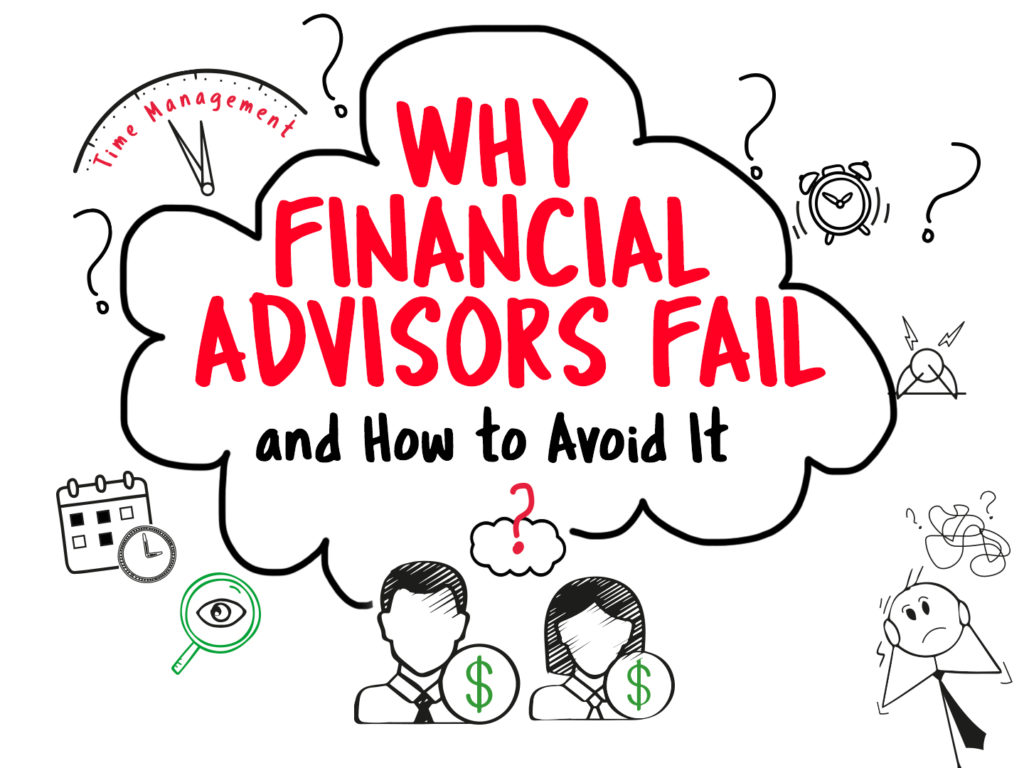 You can read every article, absorb all the motivational books, and listen to the best financial advisors on their systems. You can copy the exact blueprint a successful financial advisor has implemented – and you can still fail. Why?
We've been serving financial advisors for over 25 years, and this is the most common mistake. 
The how and the what are only 10% of what propels you forward. The other 90% is your why.
Not to worry – we've got a fail-proof method. Well, really, you do. Here's how you can discover it.
We've had the motivational and inspirational phrases, quotes, methods, etc., readily available to us. Perhaps you have some hanging in your office or come across them on social media.
Behind the positivity, motivation truly comes from two places. Need and fear. Running on this alone is unsustainable. What separates great financial advisors from the legendary are their constant pursuit of improvement, backed by values. Without values, you'll be running aimlessly towards the goal based on a needful, fearful, motivating factor.
What you require is not motivation. It's inspiration. And here's the difference.
Inspiration is to influence, to move, or to guide from within through the values-based, infinite self. Whereas your unmet needs are motivated by negative emotions and negative beliefs. Unmet needs can often dominate your values, creating a cycle of unsustainable business practices and misery.
An example of this is:
You have an unmet need for safety that generates the negative emotions of anxiety and fear. The negative beliefs that live within are that you do not have enough time or enough money.
Thoughts are fundamental forces, and you will continue to experience the following until you are ready to understand, clear, and dissolve the unmet needs that motivate negative emotions. This unmet need causes:
Poor time management.
Working too many hours.
Cash flow problems.
Operating without a five-year vision and written business plan.
In a white paper, "The Mindful Financial Advisor," published in Financial Advisor magazine, Dr. Lowrance lends insight into the powerful tool at your disposal. The power of mindfulness improved financial advisors' workplace operations, productivity, customer service, health, well-being, and bottom line.
"The research indicates that practicing mindfulness can help create win-win opportunities for financial advisors by increasing positive outcomes for both the advisors and their clients," said Dr. Lowrance.
Are you ready for your win-win?
Here are the top three things you can improve as a financial advisor so you can bring your best self forward for your clients every day.
Clear your Negative Beliefs
You can't create your values without recognizing your negative beliefs. One powerful meditation method is recognizing your thoughts as just that – a thought. Ideas will flow through you, some positive, some negative. When a negative one comes along, acknowledge it and dismiss it.
You can believe that your market is over-saturated. There are other financial advisors out there that offer the exact same services that you do. So how are you going to be different?
If you can amplify your values through your work, you can offer the same services, use the same systems as a colleague, but have a deeper understanding of your clients' needs and how to serve them.
Create your Value Proposition
What is the driving force that allows you to serve your clients at your best? Acknowledging that your negative beliefs are merely thoughts that can be recognized and dismissed was the first step in allowing these values to take charge.
Offering sit-down, face-to-face services or virtual options isn't enough. That's not a value, that's a service, and any one of your competitors can do the same. You'll need something more to distinguish you from the rest of that pack. Take some time and figure out what makes you unique, then articulate that.
Understanding your values – why you do what you do is the DNA of fulfillment.
One of our core values is wisdom. Living this value allows us to provide executive-level service to our clients where wisdom is part of the journey. What value are you bringing to the table?
Reignite your Vision and Setup your Systems
Take the cure of your value dose and get rid of your unmet needs, negative emotions, and beliefs that are sabotaging both your life and your business. Implement proven practices to grow and sustain your business and personal momentum. Write down and begin to create a value-driven business plan, mastering the areas of planning, time management, team cohesion, marketing efforts, and customer service. You're now on the path of mastery of yourself.
How can you get it all done while staying on the path of value-driven work, simultaneously delivering the highest level of results for your clients?
Being a virtual financial advisor is the ultimate sweet spot for coordinating your personal growth, client experience, and building systems to propel you forward.
If you desire a flexible work-life balance, this is the option that allows you to work anywhere, anytime.
Transitioning to virtual allows you to:
Work with the right clients, not just those that are geographically close to you. This allows you to focus more on your niche, amplify your values, and implement better systems to serve you and your clients.
Connect with clients on their preferred medium. Do they like face to face? Perfect, send them a zoom or video messaging link. Do they prefer a quick text or email? You're lucky you don't have to wait in traffic to send those!
Love adding creativity to your work? Craft engaging e-books, blogs, explainer videos, infographics, etc. With the time you save on your morning commute and office duties, you can dedicate it to finding ways to weave your values further into your business, offering better solutions for your clients.
Develop a meticulous system and schedule that will allow you to segment your time to live, your values, providing exceptional service for your clients, and ongoing learning. If you're not taking the time to learn something every week, you'll find yourself falling behind in the innovative industry breakthroughs.
Streamline processes for identifying, cultivating and onboarding new clients.
Effectively develop a consistent model of service while maintaining individual entrepreneurship and personalization.
It can reduce your overhead by 40-50% from a cost-savings perspective, allowing you to offer more to your clients at less of a fee.
Have more time to identify high-potential clients that don't fit into the 9-5 pm mould. Flexibility outside of the office will allow abundance and prosperity to flow without causing brick-and-mortar limitations.
Discovering and living your inspiration without systems in place is a path to slow success or even failure. We rise to the occasion of inspiration but fall to the power of our systems. Our systems get built on the values we exude.
The public is growing increasingly fond of virtual options because of the global shift that took place in 2020. Virtual advice is becoming a critical component in attracting and serving banking clients.
You don't have to be a technology expert to do this. All you need is adaptability in the face of adversity.
We help financial advisors discover their why, amplify it to their target market, and set up the systems they need to allow inspiration to flow freely.
We're not just here to help you create a blueprint for your mind, but also implement supporting systems, advise on technology, and discover pain points for your target market that we can address.
We help financial advisors build stronger relationships based on core values that flow through you and create a path of mastery that is achievable and sustainable.
Here's what our clients want you to know:
"Type A's are on edge, don't let dust settle, are go-go-go. We were changing broker-dealers, moving offices and my wife was joining the business. My wife said, you really need to do this to gain some perspective. Simon showed me the roadblocks that were holding me back, that I wasn't able to see for myself. Simon helped me to gain peace of mind and our revenue has increased by 400%." – Carol Thoenen, Lincoln Investment, Greater St Louis Area, MO
"I was honestly expecting a more task-based, standardized coaching program when I started with Leading Advisor. What I received was completely unexpected. Through the ease of talking one-on-one with Simon, along with tailored homework to create flow of learning and implementation, I now have a calm and centered foundation to build upon as I continue to grow my practice."  – Lars Bierly
We're committed to empowering financial advisors to live life by design, not default. Our coaching teaches you how to do precisely that.
Would you like to work with me to create a blueprint for your mind and business, give you advice on technology, help you implement supporting systems, and help you focus and dig deeper into your target market that you can address to double or triple your practice?
If yes, click the red button below to schedule a FREE 30 minutes discovery call with Laura Reilly.
The aim of the call is to see how we can help you move the needle in your business.
If your business is not the right fit, and we can't find opportunities to help you grow your practice, we will shoot straight and let you know.
Once again, click the red button above to schedule your FREE 30 minutes discovery call.