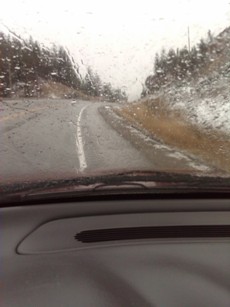 It's Wednesday, October 14, 2009 and I'm in Trail, BC having completed my speaking presentation for the Advocis Kootenay Chapter.
Thank you Jennifer Cook, the Advocis Kootenay Program Chair, for all of your work to make it possible for me to speak to the Advocis Kootenay Chapter members.
Jennifer dropped me off at my hotel after my presentation at about 11:30am and looked up at the mountains, clouds, and fog and said, "you are not going to get out of here today".
Jennifer's parting words, "Check the weather and find out if this weather will be here for one, two, or three days and call the airline and see if the morning flights are landing. You could be stuck here for three days so it may be better to find a way to get to Cranbrook which is a three hour drive. I will see if I can get you a ride to Cranbrook from one of the members that attended your presentation. "
"One, two, or three days?" I got online and checked the weather and called the airline and sure enough, nothing is flying in or going out and they can't tell me anything until an hour before flight time. I changed my flight to a 5:10pm departure from Cranbrook and Laura Googled for a rental car.
I called down from my room to order a taxi at 11:50am, I packed up really quick and Laura found a rental car and the rental car agent advised me to get right over there because the three hour drive would be tight.
I called Jennifer to thank her for the ride and then I ran down to the lobby and the desk clerk said, "It will be twenty five minutes – do you still want it?" Yes!!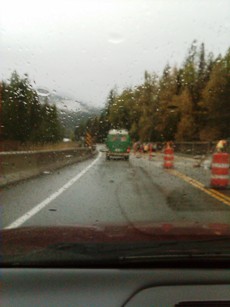 So at 12 noon I purchased two of "The Dash" sandwiches (turkey and cranberry ) from the hotel restaurant and I waited for the taxi (a twenty five minute wait, as there is only one  taxi in Trail ) to take me to the airport to rent a car from Rent A Wreck, the only rental car company in town. Then, I can drive the three hours to the Cranbrook airport as they have IFR to catch a 5:10pm flight from Cranbrook to Comox via Vancouver. A sure bet as the Trail airport has only VFR and is socked in due to the rain and it would be highly unlikely that my 4pm flight will happen.
So the three hour trip ( I hope – it may be hampered my slush and snow ) is going to be through mountain passes and valleys … a good opportunity to remind myself to stay focused on the peak of the vision and to not get sucked into the canyons and the valleys of the frustration of my first round of winter travel.
This experience is new to me and unusual as I have experienced very little in travel challenges over the 150 flights that I have taken in the past three years – well maybe one or two sits on a runway here and there for an hour or so waiting to de-ice.
"This will be a tight trip … what if I miss the flight?!" thought my fear based ego mind.
My conscious mind thought, What's the difference? None. If I miss the Cranbrook flight, I would have been stranded in Trail anyway.
In hind sight; the desk clerk told me earlier that because Trail has such a small airport, I would only have to be at the airport fifteen minutes before flight time.
Well it turned out that the taxi took forty five minutes just to get to the hotel.
So I am telling my story to the taxi driver and he tells me, "You are not going to make it, it will take you four hours".
"The front desk clerk told me two and a half to three hours!" I exclaimed.
Then the taxi driver thought about it and said, "Three hours if you move it". Then he added, "What about the time change?"
"What time change?" I asked.
"Cranbrook is on Mountain Time, didn't anyone tell you?" said the taxi driver. "It is already 2pm MT there. What time is your flight?"
 "5:10pm" I said "and I have to drop the car off in town and then get a taxi to the airport".
Funny, I've lived in BC all my life and had no clue that there is more than one time zone in the province.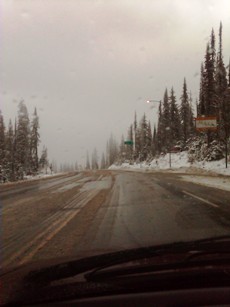 On the phone to Laura … Laura is on it with flight changes.
Rent A Wreck's service in Trail was excellent and the Pontiac Grand Prix was no wreck with front wheel drive and new winter radials.
Laura is on the phone back to me with a new 7:25pm MT flight … lots of time.
I left Trail at 1:25pm PT.
Here are my reflections from the trip as I worked at staying focused on the peak of our vision so as to not get side tracked with this experience:
The fall colors are beautiful
So this is what it feels like to do a three hour drive … not to sound jaded, I can count the number of times I have done this in ten years on one hand
I thought about the Social Networking development that I am doing with Kim Black; integrating Classmates, FaceBook, LinkedIn, MySpace and Twitter … my future plans are to go into a wider demographic with our work and this will start to lay the foundation
I'm tired … focus on the new sales and prospect appointments that are coming in from our speaking and e-marketing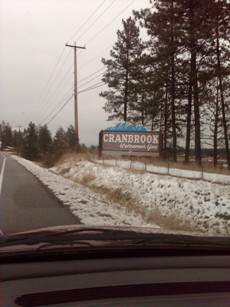 I'm noticing that we associate peaks with our vision. The peak is above it all, above the clouds. Kind of like flying, you don't see the winding road, the twists and turns, the slow moving Volkswagen van, road work and the fog.  When the pilot comes down into the clouds, he has a flight plan and navigation tools so even though he is getting into zero visibility, with mountains all around him, the pilot can steer through the maze and enjoy the beauty of the journey.
Those that have no vision or plan are always struggling … they get too low, the beautiful mountains become the view of disaster fueling and fooling you with thoughts of what if that happens and what if I hit that and what if that bolder rolls down the side of the cliff and lands on my hood and what if I get into a skid and roll this sucker.
Welcome to Cranbrook – 3:40pm PT / 4:40pm MT – two hours and fifteen minutes.