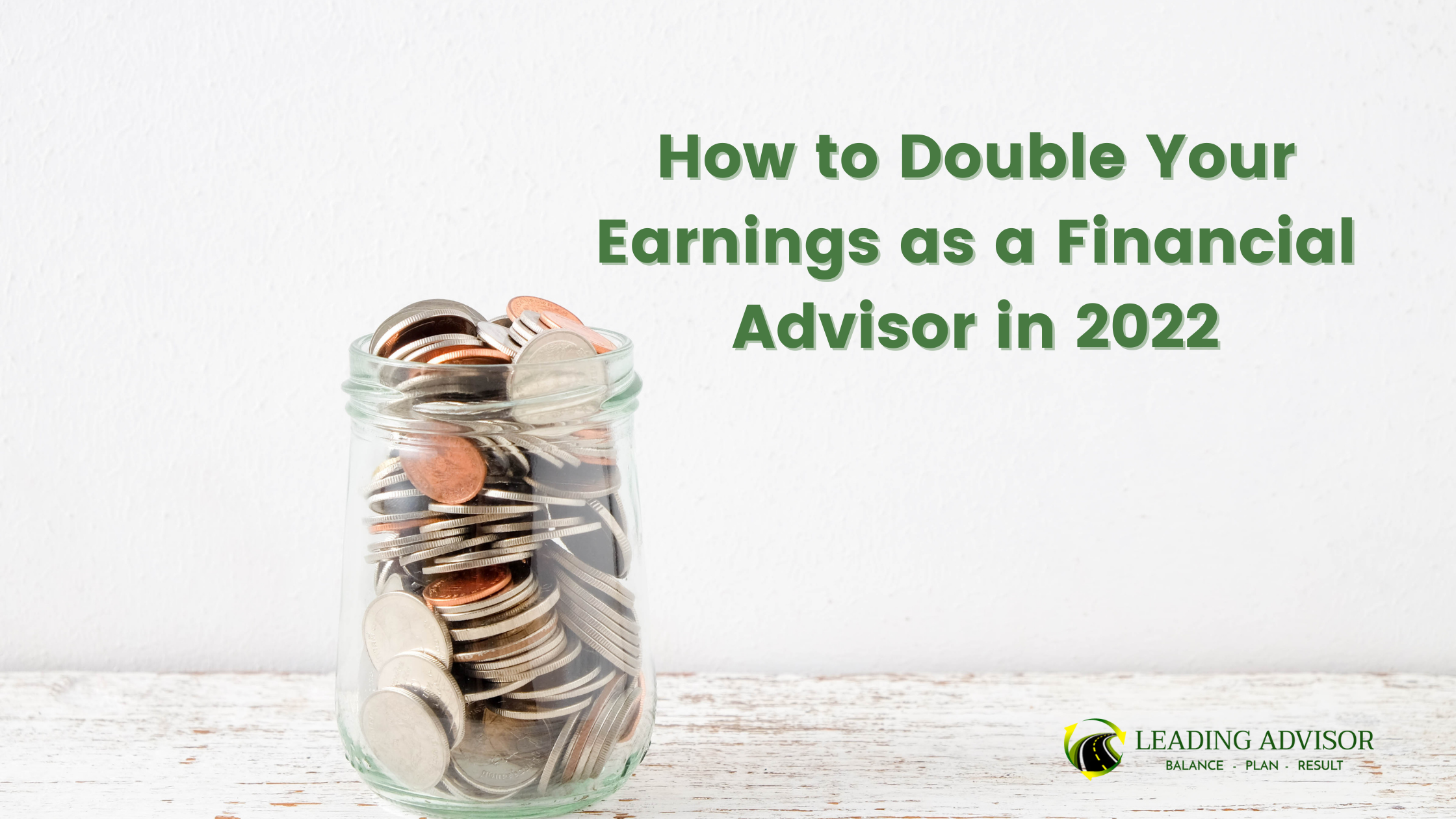 How to Double Your Earnings as a Financial Advisor in 2022
Doubling your earnings as a financial advisor can be as simple as getting one referral from every one of your current clients. But if things were that simple, you'd be doubling your business year over year.
Instead of pouring thousands of dollars into leading marketing companies, simpler strategies just require consistency, time, and some dedication. Here are practical tips and strategies that you can implement this year to double your earnings in 2022.
Put More Effort Into First Impressions
When we say to put more effort into your first impression, we aren't talking about your hairstyle. With the pandemic still ongoing, you'll need to get creative on the first impressions you're leaving with potential clients and long-time loyal investors. This could be: 
Your LinkedIn headline

Email subject line

Newsletter title
People are being bombarded with information in the digital age, so you need to get a little bit more creative. You can stand out by being more specific. Let's take a look at this example – which headline would you open?
A- Smart retirement strategies you should implement this year
or
B – Retirement strategies that Warren Buffet wished he thought of
By being specific, quirky, or a little unconventional, you're more likely to stand out and get more clients throughout 2022. 
Testimonials
According to Big Commerce, 92% of customers read online reviews before buying. If you haven't already, check out our blog for building a great testimonial system.
To double your earnings in 2022, you want to utilize your testimonials on every marketing piece or sales pitch you can. It could be as simple as posting a new testimonial to your social media once a month to updating your email signature to include a testimonial below your company's information.
After all, people work with people they can trust.
Video is King
To double your earnings, you'll need to connect with more people. The best way to do that in 2022 is through video marketing initiatives. This doesn't mean it has to be polished and perfect, but rather showcase your personality. According to Optinmonster, 72% of customers said they would rather learn about a product or service by way of video. In fact, 84% of people say they've been convinced to buy a product or service by watching a brand's video. 
Next time you want to send out a newsletter or let a client know about a new service, think about how you can incorporate video into that. Bombomb is a great email marketing platform that you can use and likely integrate into your current system. 
Look for blogs or past informational posts you've created to repurpose into video as fresh, new content. If you've already done the work, there's no need to reinvent the wheel.
Use Social Media
As of October 2021, 4.55 billion people are active on social media, meaning you have the opportunity to reach more people than ever before. Make it your mission to set aside 1 hour per week to start posting consistently, but keep in mind that's just one element of the social media formula. 
You'll also have to set aside 20 minutes per day to engage with others online. It's not all about you! Algorithms promote pages that are engaged with others, creating an online community instead of a "post and ghost" approach. 
Read our blog on the best free marketing tools if you need help with your marketing strategies to double your business as a financial advisor. Support for financial advisors doesn't stop on our blog; reach out to find out how we can help propel your business further and faster in 2022.