When entrepreneurs start out, it can be by fluke or purposeful planning, as most advisors don't start with a vision and business plan for financial advisors. One fatal flaw that financial advisors make is spending too much time working IN their business without taking the time to work ON their business. You may have been doing just fine operating without one, seeing consistent growth throughout the years.
But did you know that you can see a 30% greater chance of growth this year if you take the time to make one? And here's the kicker – you don't have to be bogged down by pages and pages of jargon you'll stick on the shelf and never read again. It can be tidied up to reflect your vision, mission, and purpose on just one page. Read on to learn how to create your own vision and business plan for a financial advisor.
What is it important to have a vision and business plan for a financial advisor?
To get from point A to point B, it helps to have a map. This rings true for both treasure hunters, road-trip enthusiasts, and those looking to create a vision and business plan for a financial advisor.
You might think of your company's strategy as a road plan that helps you stay on track while you work toward your goals – kind of like the GPS that brings you back on route after your gas station pit stop. In the event that you'd want to keep your strategy brief, you're free to do so. In fact, we've helped financial advisors create successful business plans that are only One Page. To begin, create a high-level plan in the form of a list of bullet points. You'll be able to fine-tune the plan over time.
One of the most important things to understand is that this is a living record. Maintaining an updated plan is essential since your business objectives may change over time. Adaptability is as important as completeness when it comes to your company's strategic business plan and vision.
To achieve your company's vision and goals, you'll need a solid business plan that you can reference when making decisions, big or small. To help you get started, we'll go through the most important aspects of your vision and business plan for a financial advisor.
Vision
To begin creating your solid vision and business plan for a financial advisor, you'll need to lay the foundation of the most critical part – vision.
Remember that question that typically elicited an eye-roll from a classroom full of students "Where do you see yourself in 5 years?" Well, there's more to it than that.
To start, you'll want to answer these questions about your business, the way it operates, who you're serving, and what your goals are. Here are a few great questions to get the ball rolling.
What are we building?

What will this business look like in 1, 3, 5 years?

What type of company is this?

What markets does it serve?

What is the geographic scope?

Who are the target customers?

What are the key products and services we will offer?

What sales goal are we striving for?
Your personal vision isn't necessarily about your financial advisor business plan, but rather what you see possible for others and the world. From there, you carry your values and live them in your business plan. Once you answer those questions, you can begin to create your vision statement. It can end up looking like this:
"Within the next five years grow Basis Wealth and Basis Benefits Inc into a ______ value financial planning company by providing comprehensive financial plans to professional / business owner families."
Mission Statement
Your mission statement grows from your created vision and business plan for financial advisors. When you have a clear mission statement, you're able to create a clear marketing plan to attract your ideal clients. To figure out where to start, you'll need to ask yourself some more questions.
Who are our customers?

What fundamental customer needs do we serve?

What wants, needs, desires, pain, or problems do our product services solve?

What is our unique selling proposition?

What is the key competitive edge or unique quality that we have in serving that need?

What promise do we make to our customers?
Ultimately, your mission statement should answer the big question – why does this business exist? An example of this from one of our financial advisors that completed our One Page Business Plan program stated the following:
Our mission is to help aspiring wealth-minded intergenerational households build wealth.
Essentially, your mission statement is what you are here to do. It encompasses the specific tasks, actions, or goals to realize a financial advisor's vision and business plan.
Your mission statement is what drives a good marketing plan and management decisions. When creating yours, remember to keep it short and memorable.
Purpose of the vision and business plan for a financial advisor
Having a vision and a business plan brings your purpose to life – the reason you're here. When you're living your values by defining your vision and mission statement, your purpose can be facilitated by creating an action plan around it.
But financial advisors that are feeling overwhelmed during their busy season of Q1 should not be focusing on this yet. Instead, wait for The Dip of Q2 to evaluate how the last year went for your business.
What went right? What didn't? You need to understand where you went and where you're going. And that will help you craft a sound vision and business plan for a financial advisor to live by.
It's easy to become overwhelmed when you don't have a strategy for your business. Without a strategy, you'll be going over the same "things" or "to-do" list over and over again, wasting critical time and energy.
The One Page Business Plan can help you write a clear, concise, and comprehensible business plan. It will also allow you to use keywords and short phrases in the quickest, easiest, and most straightforward method imaginable.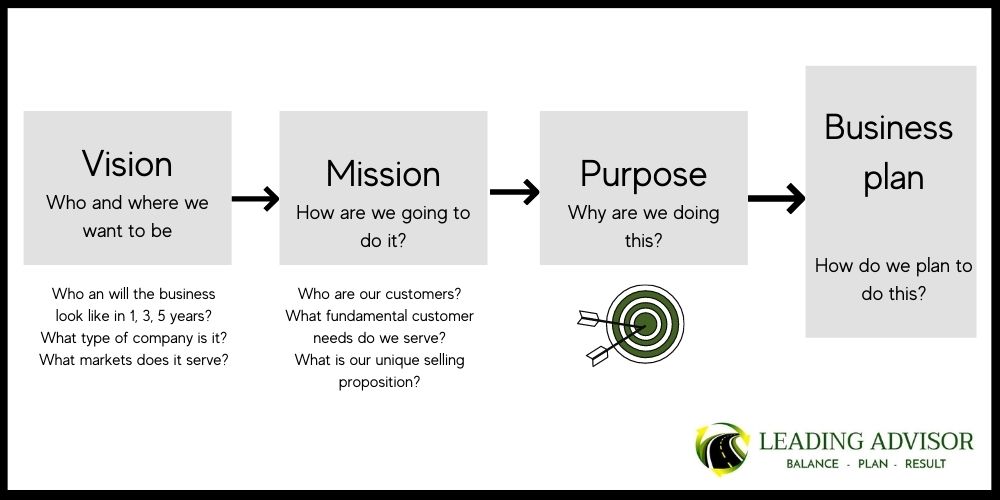 We'll leave you with this – what are you doing today to make your vision happen? You can take the next step now.