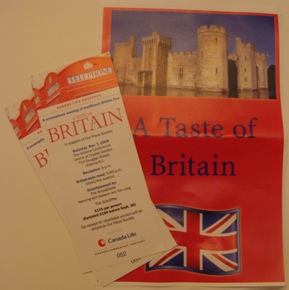 Congratulations to Daryl Clegg, Regional Marketing Consultant for Canada Life and the team of people that he assembled to produce A Taste Of Britain in Victoria, BC on Saturday evening, November 7th, 2009 to benefit Our Place Society.
Our Place is a non-profit society formed to help those in need in Victoria's inner city providing transitional housing, meals, support and advocacy, hygiene facilities, training and more. They strive to give people a hand up, not just a hand out.
A Taste Of Britain was an enormous commitment on Daryl's part with over three hundred attending a gala charity auction, dinner and dance that raised thousands for Our Place Society.
It's 5pm on Sunday night and I'm finally home after being away for 8 days, 202 hours, 4 financial advisor speaking presentations with 4 separate titles, 8000 km and one advantageous travel detour at the end of the trip.
As I was standing at the WestJet check in Kelowna on Friday afternoon to catch my flight home to Comox, BC via Calgary, AB (go figure), I found out that I was going to have to overnight in Calgary because all the planes were delayed by bad weather in Ontario and I would miss my connector.
That would really suck after being away for almost a week. So instead of Laura, driving 60 minutes North to Comox to pick me up, she drove 120 minutes South to Victoria and we lucked out and stayed with Laura's Mom Helen for the weekend.
This all worked out for the best because we had planned to drive to Victoria on Saturday for A Taste Of Britain.
So my Empty My Head List is completed, categorized and prioritized for the week which is a full coaching week starting on Tuesday.
I'll invest Monday in some AA Priority items and one of them is completing an upgrade for The Free Digital Coaching Program that we are re-launching on Monday, November 16th, 2009.
The significant thing about Monday, November 16th, 2009 is I am hitting the road again for three more financial advisor speaking presentations in Ottawa, Sudbury and Thunder Bay.
It all seems worth it after receiving this comment from Wayne Olafson on Friday after presenting The Six Degrees Of Life Insurance Connection at the Advocis Thompson Okanagan Chapter; "That was an excellent presentation, I can see why you are speaking at The MDRT."