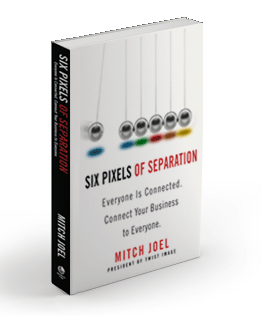 "Anthony Morris" was the opening speaker at the Thursday, September 17th Advocis Kingston Chapter and yours truly was the closing speaker.
I took the opportunity to sit in on Anthony' presentation and Anthony and his material are brilliant.
I've just started reading Six Pixels Of Separation by "Mitch Joel" and Mitch's book is a "how to understand and get caught up with new media" like Blogging, Facebook, LinkedIn, MySpace and Twitter.
Many financial advisors and investment advisors think that all of this is a waste of time.
Anthony brought this to a head with this comment in today's presentation;
When it comes time for your client's children to make a decision if they want to work with you, if they can't find you on Google, you are nobody." – Anthony Morris
If Monday's to  Wednesday's computer internet and software challenges were not enough this week, my laptop power cord packed it in during my speaking presentation so I had to make a trip to Future Shop on Thursday evening to pick up a new one or I would be out of business until returning home.
I've got Friday morning free for a trip to Starbucks in beautiful Kingston and then I'll settle into creative work until 11am, then I have a few client calls and then I'm off to the airport to fly home.