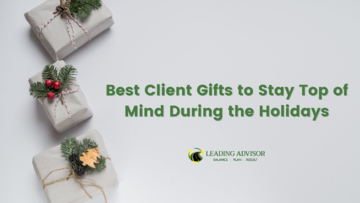 The holidays can bring equal parts of stress as they do cheer if you struggle with holiday shopping for friends, family, and clients. There is such a thing as gifting too extravagantly or, what's more common – purposeless gifting. This is when you send a generic card with a grocery store box of chocolates to your clients.
While you may have the best intentions that everyone enjoys a sweet treat, many others think the same. Your client won't recall if it was their advisor, realtor, or third cousin who gave them the well wishes during the holidays. Take advantage of the cheerful opportunities this season by staying top of mind with a unique seasonal message. Here are the top tips for gift giving this season and ideas for gifts your clients will love.
Tips for Client Gift Giving
To have the ultimate impact on your client during the holiday season, you want to be both seen and sincere. If you follow these tips, you'll know exactly what we mean:
1. Try to Give it In Person
Don't have your gift sent over by mail or personal courier unless except if you plan on having a singing telegram deliver it too. Unless your clients know your assistant by name and have developed a relationship with them, it may feel disingenuine to have them drop a gift at their door. Book a day in your schedule to make an efficient trip for drop-offs and socially distanced pop-ins for some quick facetime during the holidays. This would be a great time to mention that you should book a new year meeting to review their goals!
2. Personalize Your Gifts
The best way to make your client feel like you genuinely care is to personalize their gift. This doesn't mean you need to engrave their name on a water bottle. But if you've noticed one of your clients often chats about their healthy lifestyle and workout regimes, a box of chocolates may not be the best idea. Personalize your gifts to match your clients' tastes. You can make up 2-3 gift categories to help with this. For example, you could get them a calendar or planner for your Type A organizers. Your growing families may appreciate a gift card to a restaurant for a night away from the kitchen, and your senior clients may love to have a succulent to add to their growing collection.
3. Don't Overdo It
The last thing you want is to overdo your gift-giving and make your client feel uncomfortable. While you may think everyone would enjoy the latest $400 tech tool, it could be a waste of money compared to the impact it will have on your relationship with your client. Don't use the season to buy your clients, but rather show them your appreciation for their loyalty for working with you. If your client relationship has grown over 20+ years, that's reasonable for spending more on a gift than a new client who has just begun their investing journey.
Ideas for Client Gift Giving
With an overwhelming amount of choices, it can be easy to get stuck in indecision when staring at the 12th gift basket that doesn't seem like the right fit for your clients. Here are some ideas that go beyond generic gifting.
Succulent Arrangement
Succulents are the perfect gift idea for several reasons. Your client can find a home for it in their office or home due to its small size and low maintenance. They don't need a lot of water and live for a long time. Every time your client sees it, they'll think of you!
Gift Basket
A gift basket is a great way to show appreciation if you steer clear of the standard grocery setup. Instead of having a collection of franchised chocolates, you can put together a basket of cozy must-haves for the holidays with a personalized card. This could include a fleece blanket, fuzzy oversized socks, and make your own hot chocolate kit. Always have a note that invites your client to book a time with you to meet in the new year to evaluate their portfolio.
An Experience
Giving your clients a local experience is a great way to support businesses in town and stand out from other corporate gift-givers this season. Whether it's axe throwing, a pottery event, or a gift certificate to the local museum, your clients will appreciate the thoughtfulness behind supporting local and giving them an experience to remember.
A Donation
Wondering what to get the client that simply has it all? Arrange to have a donation made in their name to a local charity they've mentioned in passing or ask them what cause is close to their heart. There's nothing better than spreading positivity to those who need it and showing your client you care about what THEY care about.
Gourmet Pre-Packaged Food
Pre-pandemic, we may have recommended fresh baked goods if you had a knack for it. Now, it's best to keep any food gifts pre-packaged. But don't opt for the standard box of Lindor chocolates or questionable meat in a box. Choose gourmet, professionally packaged food with bonus points for any local shop support. The packaging will separate the last-minute shopping look from thoughtful, intentional gifting. From sweet to savoury, just make sure you're aware of your clients' allergies before putting anything with peanut butter in your collection.
Beverage Baskets
You just need to know your client before gifting them with a beverage basket from alcohol to hot chocolate, tea bags, or coffee. The last thing you want is to offend someone with a basket of liquor when they'd rather be sipping sparkling water. A way to stand out is to offer a variety basket that caters to many tastes or even includes personalized drinkware.
The true key to successful client gifting to staying top of mind during the holidays is your note-taking throughout the year. Does your client drink coffee or tea when they come to your office? Have they ever mentioned a sport they like? Keeping notes about your clients likes and dislikes will make gift-giving a whole lot easier.
Our gift to you this year is a brand new program designed to help financial advisors double their earnings. Contact us to learn more about our 2022 Group Coaching Program while we still have spots left!