Discover the REAL reason why you are
frustrated, stressed, and falling short of your financial goals.
Are you a Financial Advisor who is:

Working hard but dissatisfied with your income?
Worried about the volatility of the market?
Reluctant to approach high-end clients?
Concerned that your work is ruining your personal life?
Finding it hard to delegate?
Mystified that you constantly seem to be taking 2 steps forward and 3 steps backward in your business?
---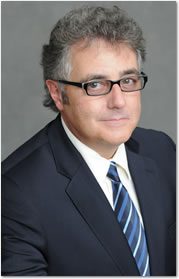 Tuesday, 9:35 am
Memo to: Financial Advisors
From: Simon Reilly
Re: Your future in this industry
Dear Financial Advisor, Can you feel it too?
There's a big problem in our industry.
I've spent the last decade traveling all over Canada speaking and working with Financial Advisors, from greenhorns to those who are almost ready to sell their businesses and retire. You've probably heard me speak at a conference or read some of my articles in the trade journals.
I've been in the trenches with you, and frankly, I'm concerned.
The problem that has me worried is not the shaky economy or latest news report of another financial disaster. Nor is it the fact that marketplace has changed dramatically and so have the expectations of the customers. It's bigger than that. This problem lurks inside each and every Financial Advisor that I've met, impacting every part of his or her business.
Financial Advisors are suffering because they have a disease:
The Unmet Needs Disease.
There is a cure for this disease, but you won't find it in a motivational seminar or a workshop on closing techniques. Nor will you be able to cure it yourself by working harder or spending more time prospecting. It's deeper than that.
Are you ready for some good news?
Through my years of research and work in this industry, I've developed a proven system to cure this Unmet Needs Disease and help Financial Advisors enjoy greater levels of prosperity and satisfaction.
I started working with Simon over 9 years ago with a mandate to double my income and provide me with more time for myself and my family, and to enable me to work on my business versus always having to work in it. I met and exceeded the mandate within the first year.
Nelson Deslippe – CFP, CLU, C.H.F.C Integral Financial Services Inc. Vancouver, Canada
With Simon's help, I realized that I had some issues that were interfering with my business plan. Another business coach may have worked with me through the business plan only to have the issues continue to interfere with the plan. Simon allowed me to hit the nail right on the head helping me to understand and resolve the issues which were 99% of the work that was required, making the work on the business plan about 1% of the work, meaning once the issues were understood, the business plan just fell right into place.
Donald Daggett -Associate Investment Advisor CIBC Wood Gundy Waterloo, ON
I want to get this cure into the hands of as many Financial Advisors as possible
so I've put it all into a book.
Announcing…
Curing the Unmet Needs Disease:
How to Prosper in Business by
Meeting Your Unmet Needs Financial Advisor Edition
How would you like to read the first 3 chapters of this book for FREE?
My publisher thinks I'm crazy, but I am so passionate about helping as many Financial Advisors as possible that…
I want to give you the whole first section of my book!
In it I explain all about the Unmet Needs Disease and how it is impacting you.
When you read the first 3 chapters of the Curing the Unmet Needs Disease, you will learn:
Keys for creating a thriving business as a Financial Advisor while enjoying a satisfying personal life- Yes, you can have both!
Forgotten information from 1943 that will forever change how you think about your business and your results.
The real reason motivation doesn't work.
Ways to eliminate the addiction that keeps you from realizing your goals.
How your early industry training is hurting your success today.
The missing link that every successful business plan requires but few contain.
Why 90% of us don't reach our goals.
Assessment techniques to help you quickly determine if you are thriving or merely surviving as a Financial Advisor.
The #1 area that Financial Advisors ignore and why you can't succeed without it.
Why you don't do what you know you should do.
And much more!
I've put the first 3 chapters of my new book, Curing the Unmet Needs Disease, into eBook format and I want to give it to you right now for free.
Why?
First, because this information is crucial to your success and to the success of the Financial Advising Industry.
Second, because I hope that after you read the first 3 chapters of the book, you'll be inspired to buy the full book so that you can learn my proven system for eliminating the roadblocks to your success.
I've taken away all your risk. Simply add your first name and email address into the form below and you'll enjoy immediate access to the first 3 chapters of Curing the Unmet Needs Disease.
To YOUR success, Simon Reily
Download the
First 3 Chapters Free!

$24.95 u.s.

Or, if you prefer, you can
Purchase the Full Version Now.

13 Chapter soft-cover book / workbook.
P.S. There is a tsunami of opportunity waiting for Financial Advisors in the next 15 years as the Baby Boomers inherit wealth and retire from their current positions. However, this wave of opportunity is available only to those who are clear and ready to catch it. Don't let your Unmet Needs block you from profiting from this once-in-a- lifetime chance.

Grab your copy of the first 3 chapters of Curing the Unmet Needs Disease with my compliments now so that you can be ready for your successful future!