7 Actions to Take Now to Meet and Exceed Your Goals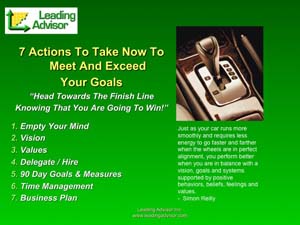 You know you want to grow your business and earn more money but don't know where to start. Planning is a critical part of business growth. One of the biggest reasons that people fail to realize success is that they fail to plan for it. They limp along year after year hoping that luck and hard work will get them through.
Learn 7 Actions you can take to get faster and farther than you ever thought possible, and with less energy than you ever thought it would take.
Construct a powerful, inspiring and compelling vision for the future
Create space for your vision
Find out what inspires you
Learn why you're dragging your heels
Discover your values
Hire the right team
Learn how to define your 90-day goals
Create a work/life balance
Find out how and why it's important to measure your achievements
Learn how to manage your time
Adopt a new attitude – you'll be glad you did