13 Steps To Delegation, Hiring & Building A Championship Team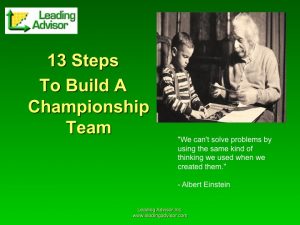 Are you bumping into the same office issues time and again? Are you a control freak? Stop being a control freak within your own business.  Control freaks will make a living, but they will not make any money.
We will introduce you to a scientific approach to creating sustainable change. Through a battery of assessments we focus on the issues that are stopping you from gaining the results that you are looking for. You will be motivated out of your comfort zone and move in a direction you really want to go. You will understand what is stopping you from moving forward. You will get re-inspired about your business, and you will attract more clients and business.
You will also learn how to create a team of people who can create a business for you.  You cannot grow your business yourself.  Select your people based on their skill set and the appropriate Values & Behaviors for the position. Hire a support team to do exactly that, support you and your business, and let them.
Management is about systems; leadership is about people. Learn how to recruit, train, and inspire your dream team.